James Yorkston proudly presents: The Cellardyke Recording and Wassailing Society:
"Another sublime piece of work" – The Scotsman 5/5
"Poetic genius at work…the flawless record that Yorkston has long promised" – Q  4/5
"Customarily brilliant piece of work" – The List 5/5
"Beautiful…melancholy majesty" – Evening Standard 4/5
"Heartbreakingly beautiful" – Uncut 8/10
"His latest, and possibly best album" – The Independent 4/5
"It's all golden…an intimate pysch-folk gem" – NME 8/10
"A hushed, thoughtful collection" – The Observer 4/5
"Feels like an hour with old friends" – The Guardian 4/5
"A Scottish export you must invest in!" – The Sun 9/10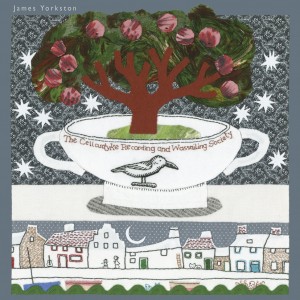 Release date: August 18th 2014. Produced by Alexis Taylor (Hotchip), featuring Alexis Taylor, KT Tunstall, Pictish Trail, Emma Smith & Jon Thorne, with guests Rob Smoughton & Fimber Bravo.
Fellow Man – Video – http://smarturl.it/FellowMan
£20 for 2×12″, £12 for CD. Copies of C.R.A.W.S bought from the JY shop will be signed by JY while stocks last.
The CRAWS iTunes pre-order – http://smarturl.it/CRWSiTunes
The CRAWS Domino Mart pre-order – http://smarturl.it/CRWSDM – Fellow Man instant download with LP orders. LP's bought from Domino Mart are limited edition 2×12″ with die-cut features…
Fellow Man
The Blues you Sang
Sweet, Sweet
Guy Fawkes' Signature
Thinking about Kat
Feathers are Falling
Broken Wave (A blues for Doogie)
Red Fox
King of the Moles
Great Ghosts
Sleep On
Embers
Honey on Thigh
As Grey and as White
The Very, Very  Best
You & Your Sister
An introduction (and induction) by The Pictish Trail:
Behold, the peaceful Scottish sea-side village of Cellardyke, hidden away in the East Neuk of Fife – home to a loose-knit community of artists and creative types, happy to exist on the fringes, away from the exorbitant rents and beer prices of the big smoke.  Indeed, who is that on the shorefront, howling his lungs out in the tattie-brown baseball cap and striking maroon corduroy trousers?  Why, it's beach-crooner, pub-comber and local pop star, James Yorkston, of course – and he very much wants you to join The Cellardyke Recording And Wassailing Society (CRAWS).
On this, his eighth studio album of original material for Domino Records, singer-songwriter James Yorkston takes the listener off the road, inviting us into much more intimate territory; arguably his most personal record yet, these are reflective and affectionate songs about life closer to home, fatherhood and the people dearest to his heart.
=-=-=-=-=-=-=-=-=-=
CRAWS predecessor, I Was a Cat from a Book (2012), was equal parts heart-racing drama and gut-wrenching turmoil, recorded over a frantic 3 day session with a piano led improvisational jazz trio at the helm.  The shortest of all JY records, it neatly bookended a decade of work, released in the same year that saw the ten year anniversary of his debut, Moving Up Country.
This was in the midst of a profoundly emotional and stressful time, with immediate family and close friends battling life-threatening illnesses.  Spending the following 18 months tucked away in his Fife home recording lo-fi acoustic demos on his phone, James emerged in November of 2013 with a wealth of suitably contemplative material; songs that would go on to form his fullest body of work to date, the fifteen original songs of CRAWS.
Heaving tides of acceptance and relief flow through songs such as 'Fellow Man' and 'King Of The Moles'; fear and forgiveness resonate on 'Feathers Are Falling', a song which lyrically echoes the pent-up frustration pouring through 'I Can Take All This' from I Was A Cat from a Book. On 'Broken Wave', he recounts his final moments with long-term double bass player and beloved pal Doogie Paul, who sadly passed away from cancer in November 2012. Doogie's presence can be felt throughout the entire album, the "loveable rogue" of 'The Blues you Sang', the ghostly figure of 'As Grey and as White', the shackled friend of 'Sweet Sweet' among others.
However, these are not songs of overwrought sentimentality or despair; there's a strong emphasis on sharing experiences with others, the comfort of friendship, a love both paternal and brotherly.  It's fitting, then, that the album embraces this warmth of spirit, with a collective approach.
=-=-=-=-=-=-=-=-=-=
Where previous JY albums had been recorded out in Bryn Derwyn in Wales, and largely self or co-produced, James relinquished sole control with CRAWS, choosing instead to record in London's prestigious Livingston studio, with fellow Domino Records artist, Alexis Taylor (Hot Chip), behind the desk.  No stranger to collaboration (About Group, The Memory Band, Fimber Bravo, Fainting By Numbers) as well as being a solo artist in his own right, Alexis was the perfect choice for this album – a singer-songwriter and multi-instrumentalist, not intimidated by genre, contributing vocals, synthesizers, drum machines, electric guitar and piano to James's songs: 
"I'm trying to play things that are fairly subtle but have a sound of their own that you don't really expect on this record, but place them in the right way so that they make an interesting palette of sound"  – Alexis Taylor
Giving himself the luxury of a week (a full week!) in the studio, James assembled his cast of players – and set about recording the songs that make CRAWS, focussing especially on vocals.
"I enjoy singing with other vocalists – previously on my albums I've had vocals from King Creosote, Lone Pigeon, The Watersons, Jill O'Sullivan, Nancy Elizabeth, HMS Ginafore – and my mind had turned to ramping that up a bit, having the vocals but using them more obviously as a feature of the album." – JY 
Enter KT Tunstall, and myself, The Pictish Trail.
I've known James for years, and we've played in each other's bands over the past decade, harmonising and drinking together, so I knew it would be a fun and relaxed experience going into the studio; his songs are always so fully-formed and robust, they are perfect to sing along with.  I was really happy to hear about Kate being involved, too – she's someone I've written, recorded and toured with, and her sheer talent always knocks me out.  As a singer especially, she's in a league of her own. James was, understandably, excited:
"I've always wanted to work with KT Tunstall, cos I've known her since way back in the day, so I thought, well, I can ask her and it'd be asking for the right reasons, her incredible voice.  And she said yes, straight away, which was very flattering, and she's been amazing during these sessions, she's been extraordinary" – JY
Also on hand were good friends, and long-time JY collaborators, Emma Smith (violin, vibraphone, clarinet and vocals) and Jon Thorne (double bass, vocals).
"Emma has played with me for years and I find a useful musical ally, both in her playing and her opinions; Jon is simply a great double-bass player and has boundless enthusiasm." – JY
After a day of rehearsals, the six of us went straight into the studio, and recorded each song as live.  Alexis drafted in his good friends Rob Smoughton (Hot Chip, Grosvenor) and Fimber Bravo to add percussion and steel drum. The immediacy of this set up was thrilling, the connection between players so instant it created enough momentum to complete 3 or 4 songs per day.  James describes the process:
"We'd just sit around in a circle first and work out the harmonies.  Once we got them we'd just hit record and play and because everyone's such an amazing musician it's worked really well and it's given the album a live feel – a warmth and a human element to it." – JY
The result is an album that connects the intimacy of James' home-town life with the camaraderie of good friends.  The Cellardyke Recording And Wassailing Society is now operational.
Comments
comments