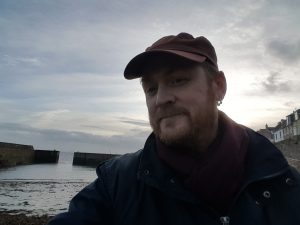 James Yorkston has been releasing music on Domino Records since 2002 – His debut album 'Moving Up Country' being 'Rough Trade's Album of the Year'.
James was an integral original member of the much lauded and hugely influential Fence Collective (King Creosote, Pictish Trail, KT Tunstall, Beta Band etc). James' first steps out of Fife as a solo artist were made in 2001 after he sent a demo cassette to folk-rock legend John Martyn asking for a support slot on the Edinburgh date of John's upcoming tour, only for John to hear the cassette and offer James all 31 dates of the tour.
Throughout his career, James has released a succession of critically-acclaimed albums. He has toured all over Europe & North America and played at the major UK music festivals: Celtic Connections, Glastonbury, Greenman, End of the Road, Latitude, Bestival, Camp Bestival, T in the Park, All Tomorrow's Parties, Field Day, Apple Cart, Doune the Rabbit Hole, Homegame, Eye o' The Dug, Meltdown, BBC Electric Proms, Other Voices (IRL), Trans-Musicale (FRA), A Summer's Tale (GER), Accelerator (SWE), Soundlabs (ITA) Electric Picnic (IRL) etc.
James has been featured many times on UK television (Including twice on BBC2's The Culture Show, Newsnight Review, documentaries for Channel 4 and MTV), as well as appearing on TV in Greece, Ireland, Germany, Poland, France, Canada, Italy & America. He has also been regularly played on BBC Radio 1, 2, 3, 4 & 6; BBC Wales, BBC Northern Ireland & BBC Scotland, performing interviews and sessions for John Peel, The Verb, Late Junction, Loose Ends, Lauren Laverne, Marc Riley, Vic Galloway, Janice Forsyth, Tom Morton, Iain Anderson, Dermot O'Leary, Steve Lamaq, Rob Da Bank, Tom Ravenscroft, Jonathan Ross & Janice Long amongst others.
In 2011 his debut book 'It's Lovely to be Here – The Touring Diaries of a Scottish Gent' was published to great response by The Domino Press / Faber, and his most recent solo album, 'The Cellardyke Recording and Wassailing Society' (2014) was similarly well received. This album featured fellow Scots KT Tunstall and The Pictish Trail.
Since 2015, James has programmed his diverse and acclaimed 'Tae Sup wi' a Fifer' club nights in Kirkcaldy which has featured such artists as Dick Gaughan, Linton Kwesi Johnson, Steve Mason, Karine Polwart and Richard Dawson.
In 2016 Freight Press published James' debut novel. 'Three Craws'
"THREE CRAWS is the debut novel of James Yorkston, an artist whose music already acclaims a brilliant story-teller, and in these pages he brings those same gifts to the written word. Shining with energy and bittersweet humour, it's written with a poet's ear for the language and people and cadence of this singular corner of the country, brought to life in its language, scenery, people and heart. Imagine SUNSET SONG retold by John Michael McDonagh, and you're something of the way to the place where this novel will take you. It's a tale of hope and tragedy and regret, and at the same time a hymn of love to the knowes and the shores, the bus-stops and potholes of the East Neuk, THREE CRAWS is a novel of home, and the ties that bind us – indelibly, whether we like it or not – to the places of our birth." – United Agents
Words about 'Three Craws'
Lauren Laverne – "Atmospheric, absorbing and darkly funny. Every bit as skilful as his song writing".
The Scotsman – "A subtle, insightful and occasionally very funny look at the way small rural communities can sometimes smother their own. Yorkston has written a House with the Green Shutters for our times; in the coming weeks he may find he has to crank the modesty up to 11".
The National – "James Yorkston is a talented folk singer with a woozy sound that lends itself to late-night listening and a good dram. His prose has tremendous rhythm and a rambunctious energy… The interweaving of Scots and English is delightful to read".
The Skinny – "This work is filled with precise Teuchter terminology: authentic and refreshing. Yorkston has a ready-made readership in his loyal musical fanbase, but his post-kailyard treatment of rural Scots' lives deserves to be read beyond only them."
Scots Magazine – "A rural take on Trainspotting themes, this book is funny and tragic all at once."
Scots Whay Hae! – "There is a lyricism in his use of everyday language which is rare and believable, and he uses his musician's ear to master the phraseology not only of how his characters talk to each other, but how they 'talk' to themselves… a welcome new voice in Scottish fiction."
The most recent musical project in James' canon is Yorkston Thorne Khan, a trio embracing jazz, indie-folk, krautrock, the poetry of Ivor Cutler, and Indian classical music. Yorkston Thorne Khan released their debut album 'Everything Sacred' in January 2016 on Domino Records. 'Everything Sacred' gained multiple 5-star reviews. In 2016 Yorkston Thorne Khan were invited to perform at the Edinburgh International Festival, Alchemy Festival and The Nehru Centre (the cultural wing of the High Commission of India). Yorkston Thorne Khan played at the opening of the 2016 Creative Scotland Festival Launch and are representing the British Council on a twelve-date tour of India in November 2016. Yorkston Thorne Khan have also toured the UK and Ireland and appeared at many music festivals, in the UK, Ireland and Spain.
Words about Yorkston Thorne Khan's 'Everything Sacred' (2016)
★★★★★ Record Collector 'New Album of the Month' "Throughout, this is the sound of three world class talents raising their respective games, as if trying to keep up with each other, creating something far greater even that the sum of their world-class parts."
★★★★★ fRoots "Joyous, contemplative, playful, euphoric and bleakly beautiful album"
★★★★★★★★ UNCUT "It isn't easy to pigeon-hole but it could just be one of the albums of the year"
★★★★ MOJO ★★★★ The Guardian ★★★★ Songlines
Words about Yorkston Thorne Khan's 'Neuk Wight Dehli All-Stars' (2018)
Rolling Stone "A game-changing masterpiece"
★★★★★★★★ UNCUT "Not so much fusion as a cross-cultural collision"
★★★★★ fRoots "Brimming with confidence, ideas and musicianship, these Neuk Wight Delhi All-Stars are a band of brothers at the top of their collective game"
★★★★★ Soundblab "The rivers of musical currents run deep and pure as Scottish and Indian languages, swap sounds of sorrow with universal understanding"
Songlines – "The fluidity of their interplay has now become almost second nature"
★★★★ MOJO "The sound they conjure up is Heavenly"
★★★★ The Guardian "Improbable trio work wonders again"
Words about 'The Cellardyke Recording and Wassailing Society' (2014)
★★★★★"Another sublime piece of work" – The Scotsman 5/5
"Poetic genius at work…the flawless record that Yorkston has long promised" – Q
★★★★★"Customarily brilliant piece of work" – The List 5/5
★★★★"Beautiful…melancholy majesty" – Evening Standard 4/5
★★★★★★★★"Heartbreakingly beautiful" – UNCUT 8/10
★★★★"His latest, and possibly best album" – The Independent 4/5
★★★★★★★★"It's all golden…an intimate psych-folk gem" – NME 8/10
★★★★"A hushed, thoughtful collection" – The Observer 4/5
★★★★"Feels like an hour with old friends" – The Guardian 4/5
---
"The finest song-writer of his generation" – John Peel
"For me, listening to James Yorkston's music is like coming across the interesting-looking person on the fringes of a party. Before you know it, you've spent the evening listening to their compelling tale. There's a quiet confidence in his craft; his singing, the words and instrumentation, all blend seamlessly…."
– Philip Selway, Radiohead
"One of the most influential singer / songwriters on the Scottish folk scene" – The Scotsman
"Yorkston has reached a state of grace that writers can spend for ever trying to attain: songs that sound not so much written as carefully retrieved from your own subconscious, played with an intuition bordering on telepathy. What more could you ask for?" – Pete Paphides, The Times
James Yorkston – Selected Works
J. Wright Presents (Fence Records CDr 2001)

 

Moving up Country (Domino Records 2002)

 

Just Beyond the River (Domino Records 2004)

Someplace Simple EP (Domino Records 2003)

The Year of the Leopard (Domino Records 2006)

When The Haar Rolls In (Domino Records 2008)

Roaring the Gospel (Domino Records 2007)

Folk Songs (w/ Big Eyes Family Players. Domino Records 2009)

My Yoke is Heavy (w/ Adrian Crowley. Chomikal Underground Records 2013)

I was a Cat from a Book (Domino Records 2012)

Cellardyke Recording & Wassailing Society (Domino Records 2014)

Everything Sacred (Yorkston / Thorne / Khan. Domino Records 2016)

It's Lovely to be here – The Touring Diaries of a Scottish Gent (Book. Faber 2011)

The Demonstrations of the CRAWS

(Domino Records 2015)

Three Craws (A novel. Freight Press 2016)

Woozy with Cider 2×12″ (Remix EP. Domino Records 2009)

Lang Cat, Crooked Cat, Spider Cat (Fence Records CDr album 2007)

'30' (Fence Records 2004)

Spanish Ants (remix EP. DeFence Records 2013)

Live at Le Poisson Mouillé (2007)
Moving Up Country (Domino Records LP 2002)
30 (Fence Records CDr 2003)
Someplace Simple (Domino Records EP 2003)
Just Beyond the River (Domino Records LP 2004)
Lang Cat, Crooked Cat, Spider Cat (Fence Records CDr 2005)
The Year of the Leopard (Domino Records LP 2006)
Live at Le Poisson Mouillé (Self-published CD 2006)
Roaring the Gospel (Domino Records LP 2007)
When the Haar Rolls In (Domino Records LP 2008)
Folk Songs (Domino Records LP 2009)
It's Lovely to be here – The Touring Diaries of a Scottish Gent (Domino Publishing / Faber book 2011)
I Was a Cat from a Book – (Domino Records LP 2012)
The Invaders Salute Captain America – The Songs of Daniel Johnston (With Adrian Crowley / Chemikal Underground LP 2013)
The Cellardyke Recording and Wassailing Society (Domino Records LP 2014)
The Demonstrations of the Craws (Domino Records LP 2015)
Everything Sacred (Domino Records LP 2016)
Three Craws (Freight Press book 2016)