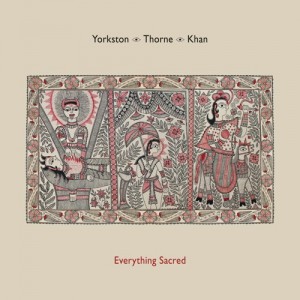 Yorkston/Thorne/Khan
Everything Sacred – album – 15th January 2016
Listen to 'Little Black Buzzer' HERE
PRE-ORDER HERE
Yorkston/Thorne/Khan release their collaborative debut album 'Everything Sacred' on Friday the 15th of January 2016. Listen to their cover of Ivor Cutler's 'Little Black Buzzer' featuring the trio joined by the superb and distinctive young Irish singer Lisa O'Neill HERE.
Yorkston/Thorne/Khan are an experimental group that includes James Yorkston, one of the most "influential singer/songwriters on the Scottish folk scene", Suhail Yusuf Khan, award winning sarangi player and classical singer from New Delhi and Jon Thorne, best known as jazz double bass player with electro outfit Lamb.
★★★★★ Record Collector 'New Album of the Month' "Throughout, this is the sound of three world class talents raising their respective games, as if trying to keep up with each other, creating something far greater even that the sum of their world-class parts."
★★★★★ fRoots "Joyous, contemplative, playful, euphoric and bleakly beautiful album"
★★★★★★★★ UNCUT "It isn't easy to pigeon-hole but it could just be one of the albums of the year"
★★★★ MOJO "Spits in the face of normal genre classifications…Enlightened and challenging, an Incredible String Band for a brave new world"
★★★★ Songlines "50 years ago the Incredible String Band emerged from the Scottish folk scene to create an extraordinary fusion of folk, acoustic pop and world music that was so singular, idiosyncratic and inimitable that the spirit of it's magical, wide-eyed wonder has never since been matched. Until now perhaps, for this inspired Yorkston Thorne Khan teaming operates within a similarly eclectic and free-wheeling orbit"
★★★★ The Guardian "Bravely original Indian-folk-jazz fusion"
"unforced and rewarding" Q
"the trio have cooked up an odd an engaging album" Observer
"experimental but still sacred" The Line Of Best Fit
"a quietly mesmerising piece of work" Music OMH
"the keening tone of the sarangi mounting an elegant exploration" Independent
Sounds pretty good eh? Well, should one be minded, one could order it here or here.
"Playing together as Yorkston / Thorne / Khan, we tackle a wide array of different sounds and songs. Alongside pieces of our own, there's a fair chunk of improvisation, plus covers of Ivor Cutler's 'Little Black Buzzer' and Lal Waterson's 'Song For Thirza'. Jon's jazz back-ground definitely comes to the fore, as does Suhail's devotional singing and outstanding sarangi playing. I just do my best to keep up…" – James Yorkston
'Everything Sacred' will be available on CD (WIGCD367), Standard LP (WIGLP367), Deluxe LP (WIGLP367X) and digitally. The Deluxe LP features a die cut sleeve with a bonus 7" featuring exclusive tracks 'Peggio' and 'The Blues You Sang' with download card. You can pre-order the album via the JY Shop HERE and iTunes HERE.
Monday 18th January 2016 – Anstruther Dreel Halls – Tickets from Community Kist
Tuesday 19th January 2016 – Glasgow Celtic Connections – Info here
16th Feb – Norwich – Bicycle Shop – Tickets here
17th Feb – Cambridge – The Junction 2 – Tickets here
18th Feb – Warwick – Arts Centre – Tickets here
19th Feb – Oxford – St Barnabas Church – Tickets here
20th Feb – Hull – Fruit – Tickets here
21st Feb – Sheffield – Yellow Arch – Tickets here
23rd Feb – Leeds – Belgrave Music Hall – Tickets here
24th Feb – Manchester – Deaf Institute – Tickets here
25th Feb – London – Old Queen's Head – Tickets here
27th Feb – Cardiff – St John's Church – Tickets here
28th Feb – Bath – Komedia – Tickets here
29th Feb – Exeter – The Phoenix – Tickets here
Tracklisting:
Knochentanz
Little Black Buzzer
Song for Thirza
Vachaspati/Kaavya
Everything Sacred
Sufi Song
Broken Wave
Blues Jumped the Goose
http://www.yorkstonthornekhan.com/
Comments
comments