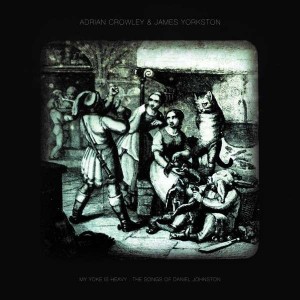 CD & Vinyl versions of brand new album from James and long time collaborator, Adrian Crowley. The vinyl pressing comes as a singlefold sleeve with printed 12″ x 12″ insert, heavy vinyl and a CD. Released December 6th 2013 on Chemikal Underground.
Here's what James and Adrian have to say about it:
Adrian: I first heard the music of Daniel Johnston in the mid '90s when I was living in France. A friend of mine had given me a mix tape of songs she knew I'd love. She was right. As far as I remember, this record began to germinate in 2006 after James asked me to play with him at The Barbican in London that spring: it was a tribute concert called 'The Devil And Daniel Johnston' and it marked the release of the film of the same name.
Sometime in 2008, one of us thought it might be nice to continue that thread and make this record. We already had some quickly made recordings for homework when we were preparing for the Barbican set so that winter an exchange of parcels began, winging their way through the elements back and forth between Ireland and Scotland. We started putting recordings together: me in my attic at home in North Strand, Dublin; James in his own place back in glorious, windswept Fife.
We each added parts to the songs using whatever was around us (apart from the piano, which involved me taking a bus to my sister's house in the south side one afternoon). Both of us were recording on ancient portastudios and did whatever we felt like at the time which turned out to be great fun – I recall sticking a microphone out of the attic skylight to try and record a magpie that was sitting on the roof, that sort of thing.
Whatever was in my attic, I used: an old game console; a super 8 camera for a whirring effect; a mini casio 'sampler' where you could record short clips and play them back on the keyboard in different pitches; there was a set of spurs that got added to the mix and a church bell that was tolling frantically nearby. The spurs were a wedding present from South America. Eventually we had 8 songs finished.
Our friends at Fence offered to make the CD available at Homegame (their now legendary festival), so they lovingly burned ninety nine CDRs for the merch table. That was in spring 2009 and every CDR immediately found a home. Ninety-nine homes. James and I weren't quick enough to pocket one for ourselves.
I'm very happy these recordings are finally making it out into the wider world. It was a pleasure singing and reinterpreting songs that have been dear to me from the first time I heard that C-60 cassette.
James: We took the opportunity to use production techniques we usually shy away from, so there's sound effects, off-pitch tape delay, baby-monitors, daftness of all sorts. For me, it was a very quick and free-form thing to do. I just grabbed the first instruments / toys I saw and worked away with them until I was done, then sent it all over to Adro, who did a similar thing in his wee Dublin attic. His ideas sparked off more with me and vice-versa.
I love this little record. It has so many peculiar wee noises which perk my memory. Random sampled voices from a ¼" auction bought tape machine, the birds on Adrian's roof, that terrible old smashed bouzouki of mine, waves from the baby monitor, cheap plastic flutes, spurs…I'm very pleased it's finally getting a 'proper' release.
I hope you all love it to bits and choose to explore Daniel Johnston's song writing further.
If that doesn't convince you, have a read of a Daniel Johnston related shocking confession from JY here.